Ah the family vacation, time together, with children, small children, in the mountains. Remove the schedules, the routine, the toys, and cell service... Luckily Aunt April was there or I don't think we would have made it out alive.
Saturday
Today was a travel day, and the kids did great, actually. Our direct flight to Denver kept getting delayed, so we took our time heading to the airport. It was a good thing actually, Amber left her phone at home and we doubled back halfway to the airport to get it. She was going to look up ABIA valet Service when she noticed it was missing. More on the valet upon return....
While in line to board, Arlo suggested that we get the entire plane to countdown while we "blastoff," then added that we should do it in Spanish, which garnered a chuckle from the nice lady that would wind up sitting behind us. April got to sit next Arlo on the flight, and he probably asked if we were blasting off about 100 times while taxi'ing on the runway. I think he sufficiently blown away upon departure, and even better, he got to watch Diego during the flight. In the van and on the road, Arlo did quite well, until he said he was peeing his pants. I played my Dad card and pulled off the road to have him hop out and drop trough, to which he said, "is this some bodies house?" "Yes son, it is"
He would grow up that night, sleeping in a big boy bed for the first time. We have been blessed he hasn't tried to jump ship all too often in his crib at home, but this VRBO home had a kids room with a bunk bed and room for a pac and play for Thatcher. He was stoked to be going to bed in his big boy bed and really looked good sleeping in it, I guess it's just something I had never seen before.
Sunday
Sunday was spent getting our bearings. April, the boys and I went for a walk around the neighborhood, and it was pretty crisp. We headed into town and stumbled into (what was the name of this bar? Seemed like a drinking bar, but the breakfast was dynomite.) We soon found the town park with access to the Blue River, and Arlo could hardly keep his pants on. I wasn't about to deny his desire to play in the mountain river, so we crossed and played, much to the jealousy of other kids I'm told. "Hey, why does that kid get to go out there?!"
Naps would prove tough this week, but this day everyone went down but Thather and I, we had our own little back patio session, to which I believe he enjoyed himself. Arlo and I later went for a hike where he slipped a little bit.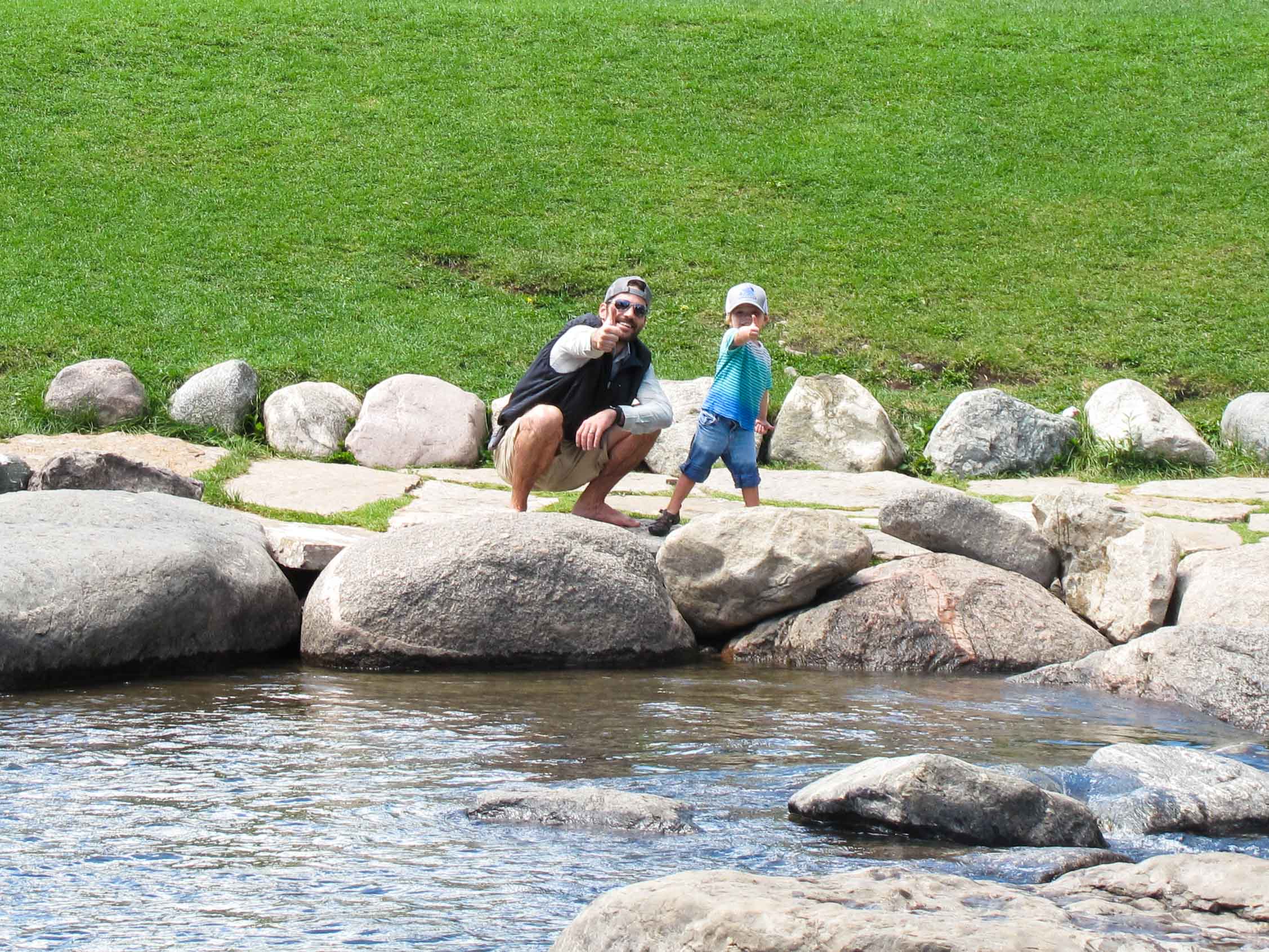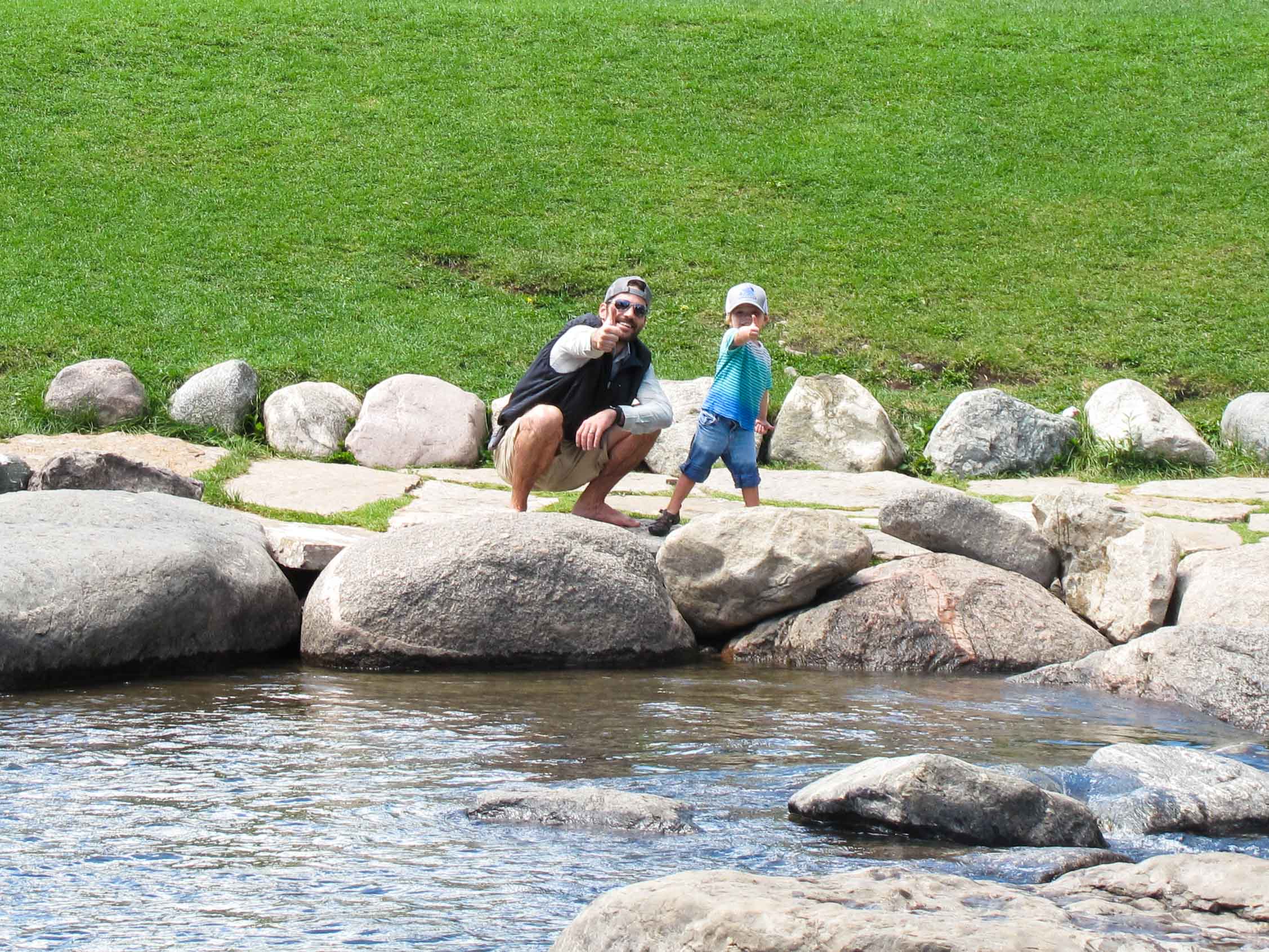 Monday
My fishing time has been greatly reduced as a new Dad. Monday I was really excited to have booked a day with Mountain Anglers to go fishing. As you may know, this is a passion of mine, well, anything that allows me to interact with the natural environment around me could be considered a passion of mine, so maybe it's just that trout live in some really beautiful places.
Anyway, I met up with my guide Pete via High Mountain Taxi (super convenient for Amber, April and the boys) and drove to the Upper Colorado River, NW of Vail. The Upper C was big water and Pete thought it would be great for us as most folks were floating the river, therefore fewer wading anglers to compete against. As bad luck would have it, a father son combo had decided to make the haul to the exact same location, and were hooking up in the holes immediately above us. This proved frustrating for Pete and me, so we bailed after a couple of hours. I have to say, there was some beautiful pocket water here.
My family was taking advantage of fun town, up the mountain at Breckenridge. Turns out, Arlo loves a gondola (aka spaceship) ride. This is where Arlo really starts to get into the photography side of traveling (see photos and video below;) Kid after my own heart.
The afternoon proved more productive for me and the bite finally turned on. We caught browns and rainbows until it was time to head back, and ended on a catch. We headed back to meet the family at the Blue Stag for dinner. I think they had quite a long day, and were probably glad to see me;)
Tuesday
Boreas Pass is a beautiful, and mispronounced by this Texan, drive out east of town. To be honest, Amber immediately jumped back into high anxiety when driving on the sides of mountains, so we took it pretty easy on the drive. Arlo was also napping after a long morning and when we got to Baker's Tank, Arlo was in a funk and Thatcher was hungry. A bottle in the woods fixed Thatcher's 'tude, but it took April's camera in the hands of little Arlo to bring out the kid we know and love. Then it was hard to contain. Told you he really loves directing photographs.
Diego loves helping animals, and Arlo loves Diego. With a handy dandy pair of binocs we brought from home, Arlo was stoked to go on a neighborhood hike in the afternoon.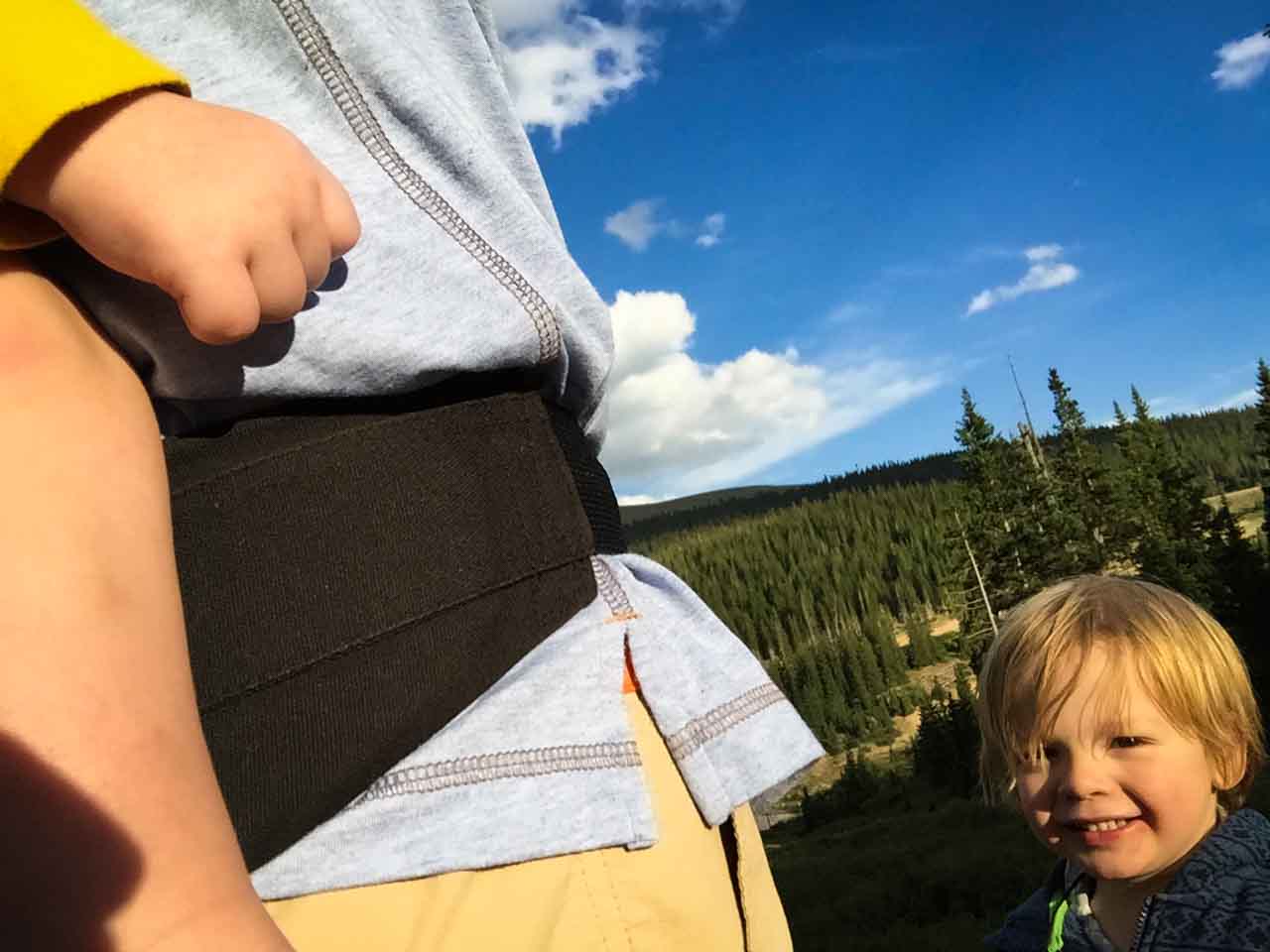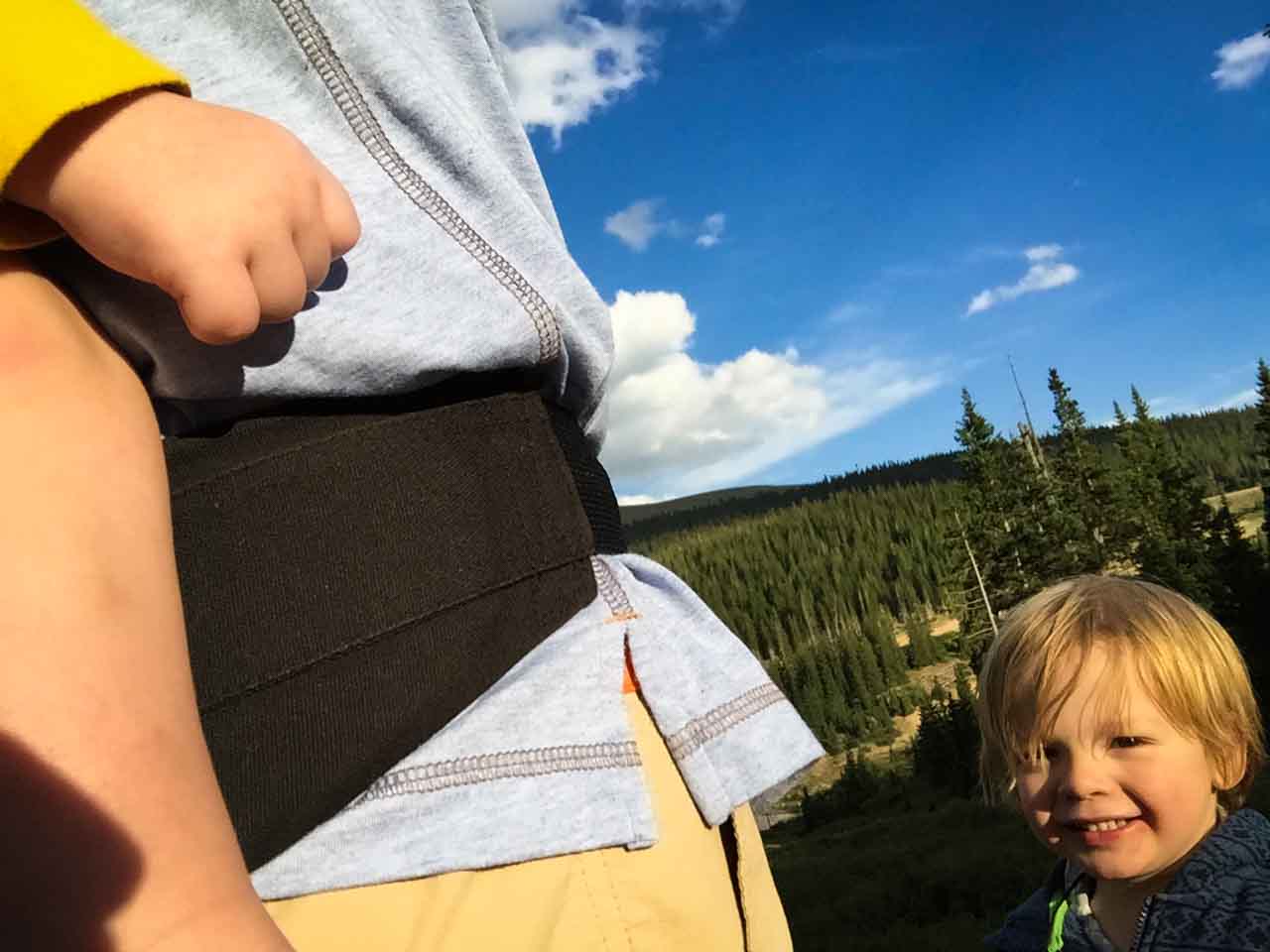 Wednesday
Fun City was calling, and according to Amber, she thought Arlo might have a little more fun with Dad in charge. I'm not sure about that, but I was eager to see what was up there. After chatting with the powers that be, I learned that Arlo was barely eligible for some of the bigger activities. I was most excited he could do a brand new children's rope challenge course and a zip line.
Arlo was most excited about put-put, which he's pretty good at actually.
After a cool 18 holes, he wanted to get on those bungee trampoline things. 30lbs was the weight limit. "Step on the scale, little man." 30lbs. exactly! Ha!
After a run through the bounce house, Arlo was tired, but I was determined to get him on the ropes course. I have had many great confidence building experiences doing challenge courses, I was stoked Breck had one for the little man.
While tired, he was ready to go. And it wasn't easy, especially considering his size, but I was so proud of how he did.
I'd like to edit a little video of him walking the course and will post it here when ready.
After that, Arlo couldn't stop hiking up to the top of the zip line and zipping down. I hate zip lining. Psych, I love it.
Thursday
Seems like we woke up Thursday morning and were like, "wait, tomorrow is our last day in the mountains!" We decided to take advantage with a family "hike" though the woods.
brief internet search, backed up by the welcome center write up on hikes in the hood, revealed that Sawmill Trail could just be right for our crew. It really was, through the woods, mellow grade, by a stream. You can read about how it ends at a reservoir great for wading out in, but we wouldn't make it the 0.7 miles 1 way to find out. We did however find a lovely stream to have a snack by.
Now all week we had been seeing sign about road closures due to the USA Pro Cycling Tour riding through town Thursday and Friday. That's great and all, but we are staying on the pass, and that's the road they were coming down. Concerned about being cutoff from our basecamp, we hustled home for some hot dogs and walked down to view the race.
Arlo did so good, we probably waited by the road for an hour and a half, all the while getting updates from a state officer working the race. When the racers were a couple of miles away, Arlo said, "I have to go potty." Are you kidding me? He wouldn't give up, so Amber walked him up to the house as helicopters whirled close by. Suddenly, after much anticipation, a few bikers rode by.
Our last day in the mountains, and what would you do, and let's not forget that it's the matriarchs birthday? Well, April felt challenged by the nature surrounding her, and took of solo on a moderate to difficult hike, McCullough Gulch Trail. I'm proud of you April, love me a good hike in the hills.
Now what would you do on your last day if you had 2 little kids, and 1 has had only had 1 shot at the ropes course? Of course we took our 3rd trip up the gondola for Fun Town. I think the gondola ride alone could have been worth the trip to Colorado for Arlo. That and the zip line.
For Amber's birthday, we rolled 5 deep back into town to stroll and look for dinner. We found a few gifts to bring back, and stumbled into Rita's. While we figuratively stumbled, I think a lot of the race patrons literally were stumbling. I did have one of my most harrowing baby bathroom experiences when I went to change a stinky Thatcher in a head with no changing table, and find poop all down my arm, and on my shorts. Siri was of no help, "Call Amber, Call Amber, Hey Siri, call Amber!!!" Luckily we both had a wardrobe change, well I removed my shirt and went with Gore-Tex jacket, which is kosher for that part of the country.
After dinner and during the magic hour, we cruised down Main, which was still closed from the race. A concert was going on in the park by the river which we had started our week at, and some of the final comparisons to our time in Idaho were made. Arlo and April danced, Thatcher even got in on it, and it was really a perfect birthday celebration and end to the week.
Saturday
It was time to get to Denver, and as Linda Geary would say, we were all over this house. We did alright though, taking note of the damage, getting the van packed up, and started thinking about what we could do in Denver when I got a text from my boy Paul. Paul runs some interesting places in Denver, including the Little Man Ice Cream stand. What I love about his place is that for every scoop of ice cream you order, they match it with a school of rice that is hand delivered in a developing country in need. That's guilt free ice cream. While Paul couldn't meet us there, he had other obligations on his motorcycle in Boulder, our crew stopped by and the rain nor the line could keep us away.
Our flight was in the evening, and all went as good as can be expected. No seat assignments though, so Amber and Arlo sat together, while April was solo and I was left with ever determined Thatcher. The valet guy at ABIA failed to give us our key fob after loading our car, otherwise I would love that expensive service. Finally home, April turns her car key to go home and it wouldn't start. Classic long travel day. We jump her ride and she gets home fine.
He had done so well in the mandatory big boy bed, that we didn't want to take a step backwards. We removed the wall to his crib upon return.
One last thing I'm still pondering about...Sunday Arlo was just the best behaved and self entertaining little boy I'd seen in a long time. A lot of Colorado was reminding him about wining or using his listening ears. At home, he played with his cars and magna doodle with hardly any interaction from us. Maybe he felt safe and secure back in his environment. Maybe absence makes the heart grows fonder. Maybe it was the feeling I remember when I was traveling a lot, that there are a lot of beautiful and wonderful places out their, but it always feels good to be home.